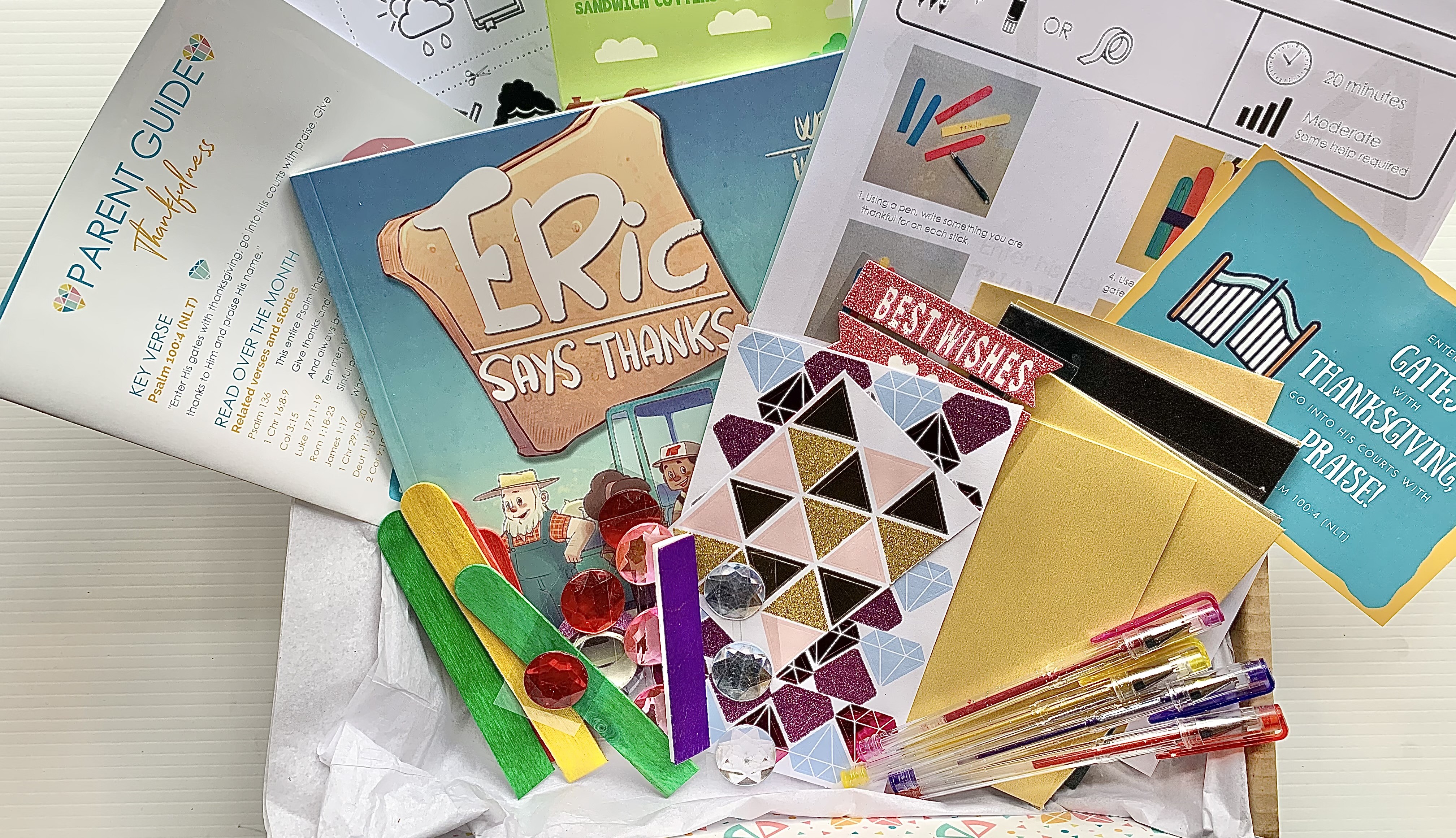 Subscribe before the 20th of each month to receive the next month's box. 
Orders Now Open for November Box
until orders close for our
October Bright Light

Box!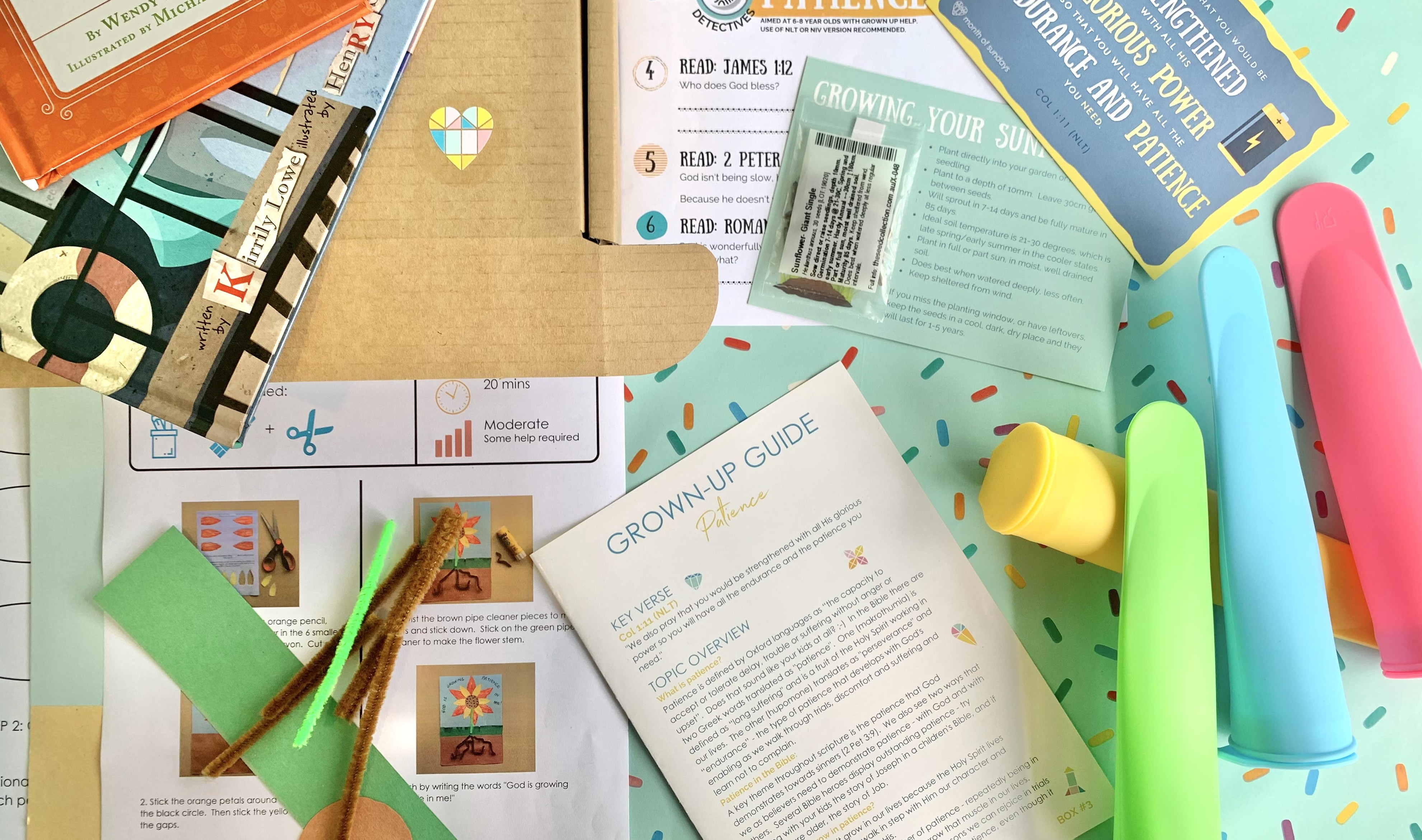 Invest in your family's faith 
A monthly subscription plan 
Purchasing a Month of Sundays family box  recurring subscription brings a beautiful box of resources (suitable for 3-8 year olds) to your door every month for your family to enjoy.  There's no risk involved, as you can simply cancel anytime before each month's cut off date, without any dramas.     
An abundance of resources 
Each box contains 1-2 Christian storybooks, several craft and activities, memory verse card, detailed grown-up guide and a fun special something, all to help you focus in on a different Biblical theme each month. 
Just want to check us out?  Buy a trial box for $29.95 here!  
A Month of Sundays subscription is awesome for your kids but also great for you!  You get detailed instructions and ideas in our grown-up guide, all supplies included so no preparation needed, plus monthly motivation and support from our Facebook community.  
MONTHLY RECURRING PAYMENT 
Month of Sundays Family Box 
Join our amazing community of families who are weaving more of their faith into everyday life with our Month of Sundays Family Box subscription.  For a small monthly investment your family box will arrive at the start of each month, and set you up with quality resources that will help you and your kids to grow in faith together.  Plus in our private Facebook group, you'll find even more resources and the chance to connect with other parents who are getting inspired in their Christian parenting journey too. 
Our Month of Sundays Family Box contains a minimum of one quality Christian resource, several biblical craft and activities, plus a "special something", memory verse card and grown-up guide. Suitable for 1-2 children aged 3-8 years.  Add craft/activity supplies for an additional child for $5 per month extra at checkout. 
$10 shipping and handling included to anywhere in Australia.  Physical street addresses only, no PO Boxes sorry. 
Access to our private Facebook community included with all subscriptions. 
IMPORTANT DETAILS 
This is a recurring monthly subscription. 
You will be billed on the 15th of every month.  
Boxes will be shipped on or around the 25th of every month.  
Cut off date for new orders is the 20th of every month.  Orders received after the cut-off date in any month will receive their first box at the end of the following month.   
Subscriptions can be cancelled at any time, prior to each month's cut off date.   
Subscriptions can be gifted - simply select "this is a gift" at checkout, enter the recipients address and nominate how many months you'd like to gift it for.  
You can buy one of our past Month of Sundays family boxes for only $29.95 delivered!
Check them out and buy one for your family or give one as a gift.
**LIMITED STOCK AVAILABLE**
Got some questions?  
Find answers in our 
Support for those in need: 
We are delighted to be able to offer a limited number of subscriptions at heavily discounted rates for families in financial hardship.
An application form with pastoral references is required. You are welcome to apply for yourself or for a family, friend or church member.    
Please contact us to find out more.  
New box ranges coming soon! 
Sign up to our newsletter to be first to hear when we launch new boxes for other ages and stages, plus exciting specialty boxes!